Lawrence Family Chiropractic:
What Our Patients Say
---
Healing Power
By H.R.L.
I have experienced headaches for approximately 50 years. At times, the pain was bad enough that I would take as many as six Anacin a day and still get no relief. I would often go to bed with a headache and wake up with it the next day, even while taking medication. Although I had been under the regular care of a traditional, non-specific chiropractor for at least the past 40 years, I began seeking something different, since his ongoing treatments didn't relieve the headaches. I started receiving acupuncture with acupressure massage on a weekly basis, which made a huge improvement – the headaches became just about non-existent.
A few months later, after my granddaughters began seeing rapid improvement under Dr. Eric's care, I went to him for an evaluation. One x-ray taken on my initial visit indicated a severe misalignment in my neck, which was definitely a contributing factor to my headaches and was likely caused by my years working as a strolling accordionist. In addition, a pelvic x-ray showed more subluxations and a surprising white area that indicated mild swelling and inflammation of my prostate. Even though I did not come to Dr. Eric for any prostate issues, this was accidently picked up during my examination.
Dr. Eric's adjustments were different from those that I was previously receiving, as his treatments targeted specific vertebrae and seemed comparatively milder. I also continued regular acupuncture visits and acupressure massages.
After six weeks of treatment, during a re-evaluation exam with follow up x-rays, the formerly white area indicating my prostate was totally clear with no visible inflammation. Upon the symptom review, I realized I had been experiencing fewer trips to the bathroom during the day and practically none in the middle of the night, which hadn't happened for at least a year. I also noticed I wasn't waking up with a severely dry mouth.
Clearly, Dr. Eric's treatments have made a difference in my overall health. Since I had already received 4 decades of regular chiropractic maintenance with the sole variance being the method of adjustment, I can only conclude that Dr. Eric's specific chiropractic treatments work better than traditional non-specific techniques.
I believe that a correctly aligned spine – treated by a true professional – contributes to being a healthy person. I consider chiropractic to be preventive care, and it seems that these specific, targeted adjustments can also reverse early stage prostate issues.
At the age of 67, I maintain an organic diet and do light exercise six days a week. I only take one very low dose of blood pressure medicine a day and I rarely need any more Anacin. Someday, I hope to no longer need the blood pressure tablets either.
I am so glad that I have found Dr. Eric. His treatments translate to healing power and have begun to cure problems that I didn't even know existed.
H.R.L., age 67
Instant Relief and Improved Mobility
By S.B.
I decided to give chiropractic a try because of sciatica in my right leg and general limited spinal mobility, especially in my neck, which had been stiff for many years due to arthritis. I was very impressed with the level of detail in Dr. Eric's initial assessment of my spinal health, in which he pointed out a number of issues, including the fact that several of the vertebrae in my neck had actually fused due to the arthritis.
With my first adjustment, I felt instant relief and immediately-improved mobility in my upper back. The subsequent improvements that I have experienced have been much more gradual as I progress through my recommended treatment program. I have now been under Dr. Eric's care for approximately 10 weeks, and my sciatica has improved to the point at which it no longer affects my daily activities. In addition, I am sleeping better and have an overall higher energy level than I did before I began my chiropractic treatments, and, despite the damage caused by the arthritis, the mobility and range of motion in my neck has improved.
I would definitely recommend Lawrence Family Chiropractic to anyone experiencing spine-related pain or general fatigue.
S. B., age 53
Migraines Would Always Stop Me
By Laura Smollon
Being an active teenager, I was always on the go. The one thing that would always stop me was my head – migraines, to be specific. After suffering two concussions within a month's time, my migraines increased from once a week to three times a week. Even three months after the concussions, I still felt dizzy, fatigued, and nauseous, and still experienced blurred vision, ringing in my ears, and intense headaches. I would carry Excedrin Migraine everywhere I went because it seemed to be my only relief – until my dad suggested bringing me to a chiropractor.
Within a month of beginning treatment with Dr. Eric, my migraines subsided to three times a month, and all my other symptoms disappeared completely. I never would have thought chiropractic care could solve my problems. I owe Dr. Eric complete credit for helping fix them.
Laura Smollon, age 15
Dramatic Improvements the First Week
By Lacey LaManna
As a 24 year-old event planner in New York City, suffering from paralysis in half your face feels like the worst thing that could happen. Upon being diagnosed with Bell's Palsy, I quickly began investigating every possible remedy, trick, or treatment that could help me get better the fastest. After extensive research, I found that a lot of dramatic patient recovery stories involved chiropractic treatment.
I had no prior knowledge of chiropractic, but I immediately called Dr. Eric to see if he could help me. Dr. Eric was very reassuring and accommodating, and brought me in as quickly as possible so that I could get started on my adjustments right away.
My doctors told me that Bell's Palsy recovery typically takes 4-8 weeks, but that it could take months or a year, or might never get better. However, thanks to Dr. Eric, I can proudly say that I saw dramatic improvements the first week and was nearly fully recovered after 3 weeks of treatment.
…read more/less»
Although
my face is now fully recovered
, I continue to come in for regular adjustments to work on other issues that could have been the root of my Bell's Palsy. Dr. Eric found that I have mild scoliosis (sideways spine curvature) and my neck curved the wrong way, but after 2 months of treatment, I have already seen about a 50% improvement in my spine and the curvature of my neck.
Prior to receiving treatment for Bell's Palsy, I had no knowledge of the chiropractic field, nor did I know how beneficial it could be for my overall health. I am very grateful to Dr. Eric and Lawrence Family Chiropractic, and I look forward to the continued improvement of my neck and spine.
Lacey LaManna, age 24
Nothing Else Worked for Me
By Giuliana Carella
I suffered with serious digestive issues for the past 5 years – everything from IBS and chronic stomach pains to an inability to eat regularly. I always felt anxious, my energy level was very low, and in spite of always being tired, I couldn't sleep at night. I also experienced shortness of breath with chest pains, and suffered from constant, severe shoulder pain.
I'm only 20, so I just wanted to feel healthy and be active again. Over the years, I tried everything from medications and physical therapy to acupuncture and even surgery to treat my problems. I've taken digestive aids, sleep aids, and Xanax for my anxiety, but they were all temporary fixes – my symptoms could be masked for a short time, but the problems didn't improve. Years of multiple medical treatments only resulted in more suffering.
…read more/less»
I was desperate. Then,
my sister's condition improved after her very first adjustment by Dr. Eric
. I wanted to give chiropractic a chance, but since I had tried so many other treatments with no success, I didn't know if these results would be any better.
After my assessment, Dr. Eric recommended spinal adjustments, some stretches to do at home, and a healthier diet with vitamin supplements – and that was it. He was so confident that chiropractic could help me. He and Lisa were very informative and so sincere that I was excited to begin my treatment.
I saw improvements much faster than expected. After my first adjustment, my shoulder pain was relieved and I was able to breathe again – instantly. With continued treatment, I've notice huge differences in my overall health, and I'm able to be active again.
I absolutely recommend Lawrence Family Chiropractic to everyone of my friends and family members. So many people notice the difference in my health and want to know how, since nothing else worked for me – until now. I love chiropractic. It's the greatest thing that has ever happened to me.
Giuliana Carella, age 20
I am Truly Impressed
By Fred Bitonti
As a new patient at Lawrence Family Chiropractic, I am truly impressed with the practice, from its state-of-the-art technology to its highly motivated, well-trained and courteous staff. As a 45-year-old male, I have long suffered with lower back spasms and upper back and neck pain. After consulting with Dr. Eric and following through with my wellness program, I am pleased to say that I am enjoying pain-free living and true flexibility. Thanks, L.F.C.!
Fred Bitonti, age 45
Overwhelming Benefits
By Widian Nicola
I have been receiving chiropractic care since sustaining a back injury while running three years ago and continue because of its overwhelming benefits. I no longer have any pain and I feel revived and alert after each visit. I have also experienced a significant decrease in other health symptoms, and I'm convinced that chiropractic prevents further injury.
I am incredibly grateful to Dr. Eric and chiropractic care, which has significantly impacted my health. Both he and Lisa are welcoming and inviting, and I certainly feel like I belong to an incredible family at Lawrence Family Chiropractic!
Widian Nicola, age 31
Feel Well Without Medicine
By Karen Bernstein
When I came to Lawrence Family Chiropractic to increase my overall health and wellness, my biggest concerns were chronic sinus problems. I've lived with post-nasal drip every day of my life, which caused me to wake up nauseous almost every morning. I suffered from horrible sinus pressure and headaches, and regular sinus infections sent me to the hospital several times every year. I used Sudafed and Benadryl to combat the symptoms, but they made me drowsy and didn't correct the underlying issues.
I'd also been to a chiropractor many years ago and received regular care for my sinus problems, but they persisted. Recently, my mom had back pain and went to see Dr. Eric. After being treated for a short time, she is doing very well, so I had no doubt that he could help me, too. …read more/less»
Dr. Eric is a wonderful, caring doctor who listens to your concerns
and makes sure you understand what he is adjusting on you, and it's a pleasure coming to the office. Even though I am still in the early stages of care,
I have not had any sinus problems or post-nasal drip
since I started having adjustments.
I have more energy, I'm sleeping better, I don't rely on medication
for my sinuses, and I'm sure my overall health will also continue to get better moving forward.
Chiropractic is a great way to feel well without medicine. You only have one body and you need to take care of it with maintenance – just like your car. This is the one luxury that I will do for myself for the rest of my life!
Karen Bernstein, age 62
A Miracle
By S.V.
I have been experiencing lower back pain off and on for about two years. My doctor, a spinal surgeon, has given me shots as well as epidurals that would give relief. However, these effects are not permanent and would be gone after a month or so. I also have been through several rounds of physical therapy. About a month ago I was having a severe episode in which the doctor told me there was nothing else he could do to help me. I was devastated. The pain was unbearable and at 30 years old the future seemed bleak. He did suggest I give chiropractic a try.
I had always been very skeptical of chiropractic. I worried about someone forcibly moving my spine. It seemed rather dangerous so I was always very doubtful. A good friend had been seeing Dr. Eric and was always raving about him. She had nothing but good things to say about him and his approach. With my doctor's suggestion I decided that this might be the best thing for me to try. …read more/less»
When I first arrived at the office I was extremely nervous. I did not know what to expect. Lisa greeted me right away and was very kind. I then met Dr. Eric who was also incredibly patient and caring.
After speaking with the doctor I was taken for testing
. The doctor talked to me the whole time, explaining what was happening and what results he could already see. Then I got to see the video. I was truly amazed. The results showed my movements inside out and how obvious, and serious, some of the issues I was experiencing were.
I came back a couple days later once my x-rays were ready. They confirmed and showed my pain. That same appointment I had my first adjustment. While I was still incredibly nervous, I trusted that Dr. Eric clearly knew what he was doing. His technology was amazing and helped to set out a clear plan of treatment for me.
That first treatment was not painful at all. While I was in a bit of a daze while it was happening from my nerves, I never experienced any pain. Following that first ten minute adjustment I was able to sit up straight without pain, something I had been unable to do for weeks before. In the days following I was able to continue to be able to sit up easily, but I was also walking more comfortably as well. Ten minutes and I was a different person. It seemed not only to me a miracle, but also to my family and friends who immediately noticed a difference.
I have now been seeing Dr. Eric for about a month. The progress I have made is phenomenal. While there is still a lot of work to be done, I have been amazed by the rate of my improvement. The doctor always listens to my concerns and takes his time making sure I feel good about what is going on with my care. Further, he cares about my whole well-being too. Lisa in the office is also always a pleasure in welcoming and checking me in for my appointments.
I would highly recommend Lawrence Family Chiropractic and Dr. Eric for anyone seeking chiropractic care. He has been beyond helpful in giving me relief from my daily pain.
S.V., age 30
Living a Pain-Free Life
By Donna Nardini
I started chiropractic care for the first time in my life in the summer of 2012. My aching back was affecting all aspects of my life. I was taking over-the-counter pain remedies several times daily, I was not able to carry out my regular exercise routine and I was not able to work in my garden, something I have always loved.
I wasn't sure that chiropractic would help me. But I knew that I had to try something.
Today I am once again exercising, tending to my garden and living a pain-free life. It is all thanks to chiropractic.
Donna Nardini, age 65
Chiropractic Is Better Than Medicine
By Joanna Dudzinska
I first consulted with Dr. Eric in March due to the persistent pain in my neck and upper and lower back. I was using Advil, but it only helped for about 2 to 3 hours at a time, and I really wanted relief without the use of medicine. My husband, who discovered Lawrence Family Chiropractic during a Google search in February, had begun experiencing relief from his lower back pain as soon as he started receiving care, so I didn't doubt that chiropractic could help me too. Dr. Eric earned my trust right away and explained everything very clearly. Besides his focus on my spine's health, he also made simple recommendations to help enhance my entire state of wellness, like improving my diet, stretching, and working out more often. I am experiencing less pain and rarely use Advil, so I definitely want to tell everyone to come see Dr. Eric for a check-up. If you're in pain, chiropractic is better than medicine!
Joanna Dudzinska, age 59
No Matter What Ails You
By Carmela Camilleri
I started having lots of pain in my back and right side, and after about 2 weeks, I'd had enough. I hadn't been to a chiropractor in many years, but I've heard good things about Dr. Eric's abilities from friends and family who are already under his care. I felt a great improvement after my very first adjustment, and I'm 90% better within the first 2 weeks of treatment. I've told many friends and other family members that no matter what ails them, chiropractic helps a great deal – and for the most beneficial treatments, they need to visit Lawrence Family Chiropractic!
Carmela Camilleri, age 87
After first treatment my pain was gone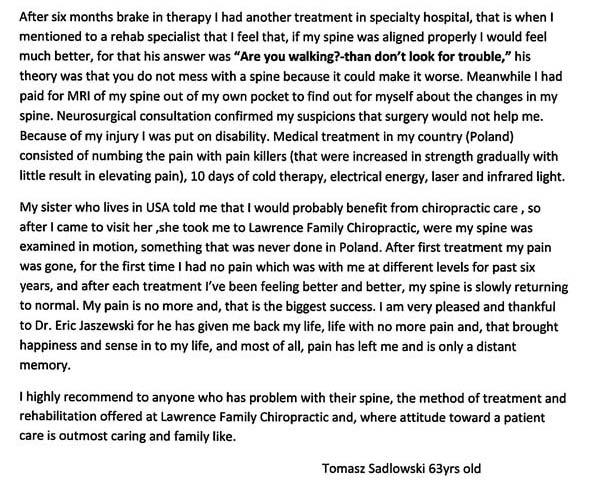 ---
Quality chiropractic care for Lawrence Township, Lawrenceville and Trenton.